FIELD NOTES: Four Dukes Named AP All-Americans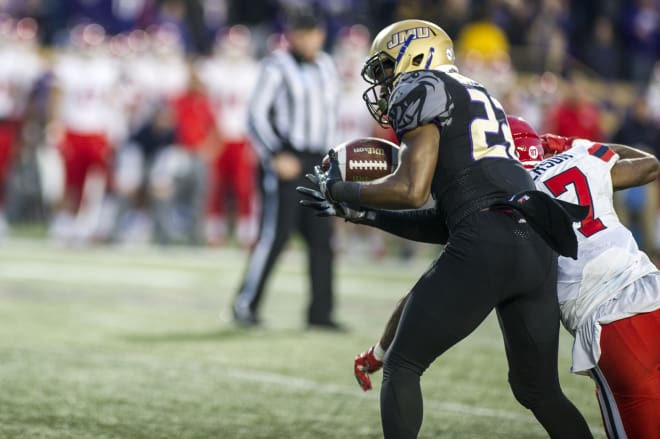 HARRISONBURG – Four James Madison football players were named to The Associated Press FCS All-American teams on Tuesday.
Senior left tackle Aaron Stinnie, senior defensive end Andrew Ankrah and senior safety Jordan Brown were first-team choices. Junior cornerback Rashad Robinson was a second-team selection.
"All four are very deserving," JMU coach Mike Houston said Tuesday during his weekly press conference. "They are all four great players and all four outstanding young men. "And they're great representatives of our football program at James Madison University. They'll be successes in life after they quit playing football, but hopefully they've got a little more football left in them."
JMU hosts South Dakota State in the national semifinals of the FCS playoffs on Saturday at 4:30 p.m. at Bridgeforth Stadium in Harrisonburg.
Stinnie has started every game over the last three seasons at left tackle for the Dukes. Ankrah is also a finalist for the Buck Buchanan Award as he's racked up 51 tackles, 14.5 tackles for loss and 7.5 sacks this season.
Stinnie, Ankrah and Robinson were also first-team All-Colonial Athletic Association choices, but Brown was not. Brown and Robinson are tied for the FCS lead with seven interceptions this season. Brown has 66 tackles.
"How Jordan Brown is first-team AP All-American, but second-team All-Conference, that probably says enough about that right there," Houston said. "Very deserving award for Jordan."
Robinson has recorded an interception in each of JMU's first two postseason games.
This is the first time in JMU history its had three first-team AP All-Americans and just the second time in the program's history its had four total, matching 2006.
Stinnie, Ankrah and Brown gave JMU more first-team selections than any other school this season.
*****
- For the full AP All-American Teams click here.
- With this Saturday's game, Houston said South Dakota State is one of the best teams in the Missouri Valley Conference, but added at this point in the season every team left is capable of winning the national championship.
- The second-year JMU coach said he expects to be in another tight game this week. This past Friday, JMU rallied from eight points down with less than three minutes to play to beat Weber State.
- Houston detailed the game-tying 2-point conversion his team had against the Wildcats. He said he called a timeout to reset and refocus the offense after wide receiver Riley Stapleton had just caught a 40-yard touchdown pass. Houston said he thought Weber State was expecting a pick-play on the perimeter, so the staff gave quarterback Bryan Schor a run-pass option choice at the line of scrimmage. Weber State gave JMU the run, so Schor went with the run and Stinnie cleared the defensive end making room for junior running back Trai Sharp to reach the end zone.
- South Dakota State tight end Dallas Goedert is a first-team AP All-American choice. Houston said, "He's easily the best player offensively that we've faced this year."
- South Dakota State coach John Stiegelmeier said Goedert is questionable for Saturday's semifinal. Goedert exited SDSU's quarterfinal contest against New Hampshire by limping off the field with an injury. "He's got a fairly serious injury that he's only got a week to prepare and we've got an unbelievable medical staff, but it's not 50-50 right now."
- Like JMU, South Dakota State has been forced into some playing some freshmen on the offensive line this year. But Stiegelmeier said the unit has been held together by senior center Jacob Ohnesorge, who has done a great job leading.
- Stiegelmeier said he's most impressed with JMU's Schor, Ankrah and added that the Jackrabbits must stop the jet sweep (touch pass) to senior wide receiver Terrence Alls.
- In preparation for the quarterfinal against New Hampshire, Stiegelmeier said him and his coaching staff got an early look at JMU. "What JMU does on the football field jumps out at you, even when you're not studying them," he said.
- Stiegelmeier has been at the helm for 21 seasons at the school. He took the program from Division II to FCS. He said the journey has been very rewarding.