Success Makes Scheduling Tough
White Says Madison's Rise Back Into FCS's Upper Echelon Has Mid-Majors, In-State Rivals Leery Of Playing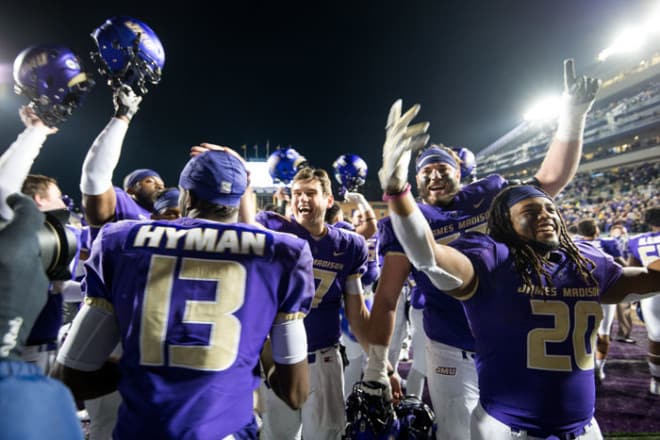 HARRISONBURG — Imagine trying to solve a puzzle that constantly shifts and doesn't allow for the next piece to fit without some negotiating.
That's what Kevin White deals with on a daily basis.
"Scheduling is so tricky," said White — James Madison's associate athletic director for sports programs, who handles putting together the school's non-conference football slate — during an hour-long interview in his office Friday.
White said the Dukes are booked with four non-conference contests for 2019, but are still looking for a 2020 season-opening opponent and have started exploring options for 2021 and beyond.
"We've had some discussions with [North Dakota State] about a Week Zero game," White said.
If JMU were to schedule a future Week Zero game against North Dakota State, it would be in lieu of an FBS game, he said.
"We've met them now in the semis and championship and they're playing Delaware [this season], but for us, we'll entertain a Week Zero game.
"It just has to make sense for us. If it doesn't make sense, and when I say make sense, you play that game and what's the nut? You travel across the country to play them. There's still a bottom line. The fanfare will say, 'North Dakota State, that's a great game,' but that doesn't help us with our bottom line. Why travel that far to play them when you can travel two hours to play Maryland and make a lot more money, get home at a reasonable time and not have to get on an airplane? There are logistical things, too."
He said JMU has also spoken with Louisville, Maryland and Pittsburgh at the FBS level. White can quickly rattle off all of the FCS schools that have open dates in 2021, too.
JMU kicks off this fall at N.C. State before a return trip to Norfolk State and a home-opener against Robert Morris.
In 2019, the Dukes play at West Virginia, start a home-and-home on the road at Chattanooga and will host St. Francis and Morgan State.
For 2020, Chattanooga comes to Harrisonburg on Sept. 12 and JMU goes to North Carolina on Nov. 21.
"You have to go 2-1 in your non-conference schedule," White said. "And you need to go 6-2 in your league schedule. That gets you in the playoffs.
"My job is to get us in the playoffs and to schedule accordingly."
Most Colonial Athletic Association schools schedule similarly — with an FBS opponent and two lower-level FCS foes annually with an effort to get to at least six home games.
What's different about 2019 is that the FCS calendar allows for a 12-game season, so JMU can play four schools outside of the CAA, which is why White said the timing worked out to begin the home-and-home with the Mocs and make a trip to Morgantown, W.Va., in the same year.
White, who has been responsible for football scheduling since the Mickey Matthews era, said after 2020 it's been a challenge to find FBS and FCS opponents.
"When Mickey was here, to his credit and to his staff's credit, we were a very physical team," White said. "And I had folks that didn't want to play because we were just too physical, and I had people tell me that.
"Now, what I get involved with is that people just don't want to play. Winning a national championship, going to the finals and I know that it's cyclical because we could be dog awful next year, but you schedule so far out.
"But to [JMU coach] Mike [Houston] and his staff's credit, they've done a great job recruiting, they're disciplined, they're very tough, very sound and people notice that. I deal with the brunt of that."
Winning matchups against FBS squads Southern Methodist in 2015 and East Carolina this past fall hasn't helped. JMU was paid $300,000 to beat ECU, 34-14, in its home stadium.
"That's great, but in some ways it's a death trap," he said. "I can't get another mid-major to even consider me now."
Those mid-major FBS programs are, at best, hesitant to even engage with JMU.
"I've had some conversations with Connecticut," White said. "I had done some research and [they said], 'OK, we'll play. We'll consider it and we'll pay you this.' It was a crazy dollar amount. [Connecticut] wanted to pay [JMU] less than $300,000, so I said, 'Look you've paid people.' And they said they weren't going to pay that [much] anymore."
JMU will be paid $425,000 by N.C. State, $550,000 by WVU and $500,000 by UNC.
The guaranteed payout from FBS schools is part of the reason why JMU prefers one of those games per year as opposed to contests against a top-level FCS program.
Travel is part of the equation when lining up non-conference games also.
White said he'd like for JMU to be able to schedule Liberty, Old Dominion, Virginia or Virginia Tech. The Flames, Monarchs and Cavaliers have no interest, and White said he hasn't spoken with the Hokies in about a year, but wants to reach out again soon since Virginia Tech just had 2020 and 2021 dates with Michigan canceled.
But until any of the four in-state FBS program sign a contract, JMU has turned its attention to Louisville, Maryland and Pittsburgh, which are all within driving distance and are at least listening about a game with the Dukes.
"Our fans would go to Maryland," he said. "We have a lot of fans in the DMV area and then with Louisville, with the success that they've had and Lamar Jackson winning the Heisman, and we have an alumnus working there, Justin Ruffin, who works with the program and we feel like that's not bad travel.
"It's a marquee game and for us it's branding, too. They're always going to sell out their venue for our folks to go to. Pitt, same thing, not bad travel, nice stadium and in the ACC, so if we can pull off one of those, that's awesome."