JMU Sets 2019 Date With WVU; Nets $550,000 Payout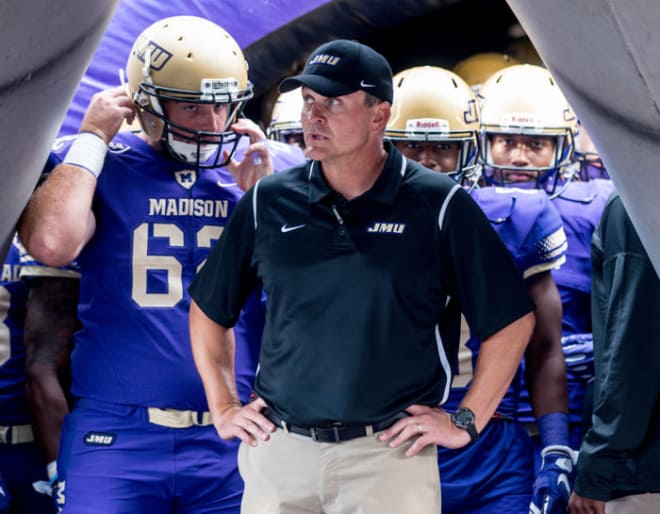 HARRISONBURG -James Madison will receive its largest guaranteed payout ever from an FBS opponent in 2019.
West Virginia will pay JMU $550,000 for the Dukes to meet the Mountaineers in Morgantown at Milan Puskar Stadium on Aug. 31, 2019. The two schools signed a contract on Thursday, said Kevin Warner, JMU's assistant athletic director for communications.
The previous largest payout from an FBS school to JMU was made by SMU last fall — the Mustangs paid the Dukes $425,000 to play in Dallas. JMU won the game 48-45.
JMU also announced two more road dates with FBS schools for the 2017 and 2018 seasons.
Next year, JMU will play at East Carolina on Sept. 2. In 2018, JMU will go to North Carolina State on Sept. 1.
East Carolina has guaranteed JMU a payout of $300,000 and North Carolina State will pay $425,000 to the Dukes, Warner said.
Athletic director Jeff Bourne recently said JMU would aim to play one FBS foe per year.
"The FBS game is a big game for us," Bourne said in an interview last month. "The revenue that we net is the equivalent of two home games or more depending on the size of the crowd. It's a big payday for us."
Next week's meeting between James Madison and North Carolina in Chapel Hill will net Madison a $410,000 payday.
James Madison and West Virginia last met in 2012 at FedEx Field in Landover, Md. West Virginia won the game 42-12. At the time, West Virginia was ranked No. 9 in the AP Poll and quarterback Geno Smith threw for 411 yards and five touchdowns with wide receivers Tavon Austin and Stedman Bailey combining for 286 receiving yards and four touchdowns. James Madison running back Jauan Latney accounted for the lone Madison touchdown.
West Virginia holds a 2-0 advantage in the series. The schools also met in 2004 in Morgantown.
JMU has never played against East Carolina or North Carolina State.