FORGETTABLE JUST FINE
Under-The-Radar Brown Can Build Off '18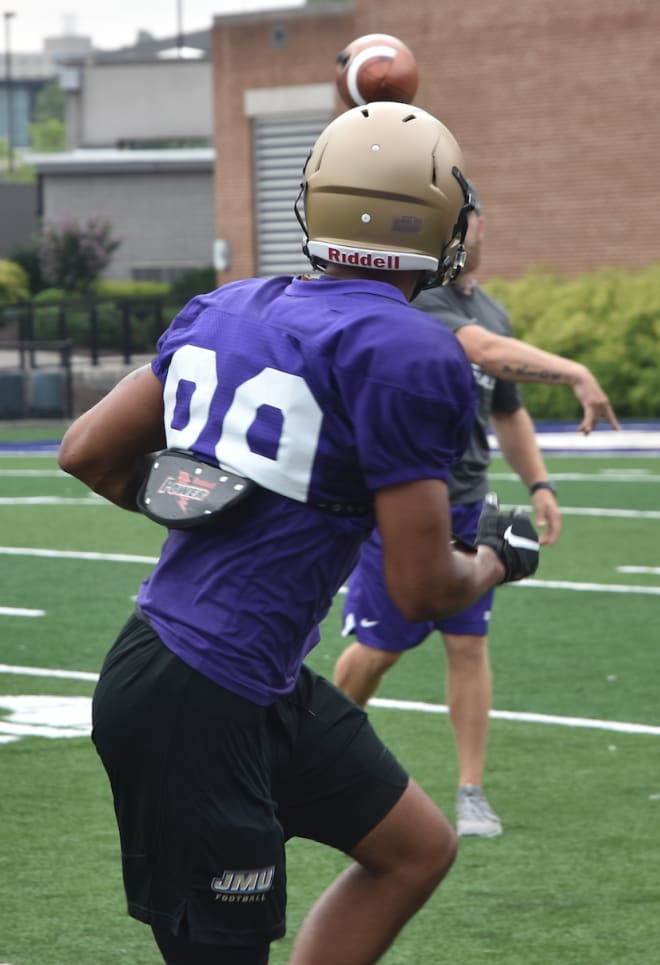 HARRISONBURG — Jake Brown is fine with being forgettable.
It didn't change the way the James Madison wide receiver prepped in the offseason and it isn't altering how he approaches practice during the Dukes' August training camp now.
"We have a bunch of really good players," he said of his fellow projected first-team receivers. "Riley [Stapleton] has obviously been the guy here since before I was on the scene and [Kyndel Dean] is a great player. And Brandon [Polk] is going to be really good for us this year, so I don't get caught up in that.
"I just try to go out there, do my job and let my play speak."
Anytime an FBS transfer arrives in Harrisonburg, it's a story. So Polk coming from Penn State to finish out his eligibility earlier this summer raised intrigue about the innovative ways JMU could use a speedster with Big Ten experience to its advantage. For the past two years, Stapleton has served as the program's No. 1 wide receiver and Dean was a HERO Sports Freshman All-American last season.
Brown caught 38 passes for 455 yards and two touchdowns in 2018, but enters this season flying under the radar and without accolades or notice even though it's likely his role only expands.
"Jake Brown is one of those rare guys that he is such a pleasure to coach," JMU coach Curt Cignetti said. "And he gets everything out of his ability. He goes hard every play. He develops his craft and continues to develop it, and he's turned himself into a real threat. Every day he makes plays and he continues to improve."
Of the 38 receptions Brown hauled in last fall, 33 came in Week 6 or later as he seized the starting job in the slot.
He's playing inside receiver again five practices into camp, but Cignetti said Brown could play out wide if the team needed him to this year.
"I had played outside my entire life, so I feel like I kind of know how to do it," Brown said. "In the summer, I would do outside releases just so I could keep my game as well-rounded as possible, because you never know."
But until that moment comes, he's zeroed in on maximizing his production out of the slot.
Brown said his experiences on the field in the second half of last season allowed him to see exactly what he needs to do to be successful as he readies for his redshirt junior season.
"I just am trying to recognize man [defense] or zone [defense]," Brown said. "And then I don't want to get too disrupted on my second-level releases. You can't let the defense determine your depth on the route.
"[Wide receivers coach Mike] Shanahan always stresses that. You want to get low, fight through the second defender and get where you need to be and just read if it's man or zone."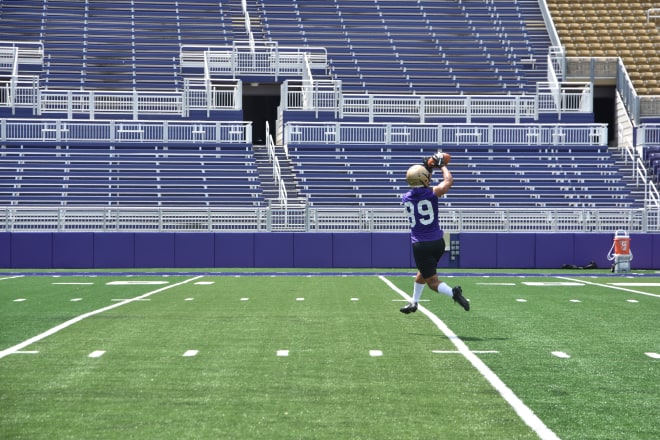 He said opposing defenders will give away what type of defense they're using. Depending on the opponent, Brown can match up with traditional cornerbacks, nickel cornerbacks, safeties or linebackers.
"You try to look at the safeties and corners," Brown said, "and look at if they have their head up looking at you or if they're looking at the quarterback. But we disguise it so well [in practice] that with our team sometimes it gets tricky."
Brown said he's already started watching film of this season's opponents to learn the tendencies of their defensive backfields — something he didn't do last year at this time — and is anxious to build off of the strong second half he had late last season.
"If anything, I tried to work harder this summer," Brown said. "Definitely on my game, my speed and my body. And just because of last year, I have more expectation for myself. I just try to work even harder."