FIELD NOTES: Offense Thrives In Second Scrimmage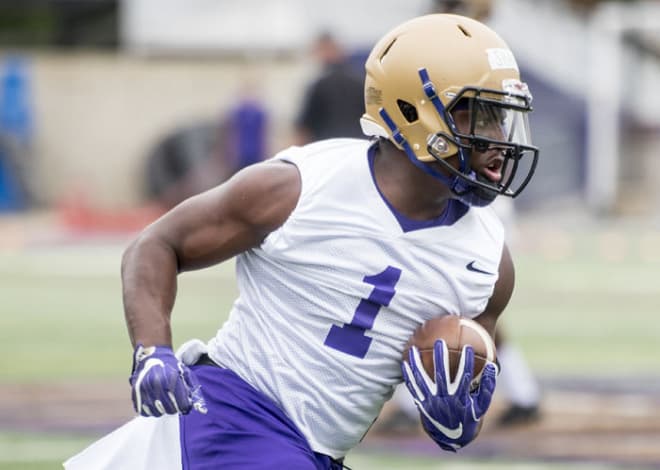 HARRISONBURG – Cole Johnson threw for two touchdowns and Ben DiNucci tossed for one and ran for another in James Madison's second scrimmage of training camp.
The two quarterbacks, who are in competition for Dukes' starting job, helped the offense put together a strong performance to bounce back after the defense dominated last week's scrimmage.
"You had some big plays today because you had a mistake here or there from the defense, and the offense was able to take advantage of it," third-year coach Mike Houston said. "Those are the things we didn't do last week. Last week offensively, we never could get things going consistently because we kept making mistakes – false starts, dropped passes and things like that.
"You saw really good execution on the offensive side of the ball and you saw our playmakers make plays, which is what they should do."
Johnson threw a 21-yard touchdown pass to wide receiver Daniel Adu and a 49-yard touchdown pass to running back Trai Sharp. DiNucci had a 45-yard scoring run and a 29-yard touchdown throw to tight end Clayton Cheatham.
In his addition to his touchdown reception, Sharp scored on a 39-yard run. Fellow running backs Marcus Marshall and Jawon Hamilton each had rushing touchdowns as well.
"It reminded me a lot of two years ago," Houston said. "That offense two years ago, when they got momentum and they were playing with confidence, I mean nobody could stop them and so, you saw some glimpses of that today."
*****
- Some of the difficulty JMU is having in selecting a starting quarterback is because DiNucci and Johnson have different strengths. "No matter whom you go with," Houston said, "you certainly have a package for the other, no matter who it is. But I do think our offense will take on a different flavor depending on which quarterback is the starter."
- DiNucci threw the ball extremely well off play-action pass. His scoring throw to Cheatham and the play to setup the touchdown – an underneath pass to Kyndel Dean – were both off run fakes.
- Offensive coordinator Donnie Kirkpatrick reiterated Saturday what he said on Tuesday in that there's "nothing illegal" about playing both DiNucci and Johnson.
- Not all was bad for the defense – Que Reid and Grant Westbrook each picked off Gage Moloney. Wesley McCormick had an interception of Johnson off a tipped pass. Defensive end Ron'Dell Carter would've had multiple sacks if he was allowed to tackle the quarterback.

- Defensive coordinator Bob Trott said Westbrook played four different positions throughout the scrimmage. Westbrook was seen at both safety positions, outside linebacker and nickel corner at different times with the first, second and third-team units.
- Offensive tackle Zaire Bethea, tight end Nick Carlton, wide receiver David Eldridge, running back Cardon Johnson, wide receiver EJ Morgan and linebacker Landan Word were held out of the scrimmage either as a precaution or lingering injury.

- Houston said Johnson is fine and "will be ready to go in Raleigh" when the Dukes kick off their season at N.C. State on Sept. 1.