FIELD NOTES: Dukes Gear Up For Spiders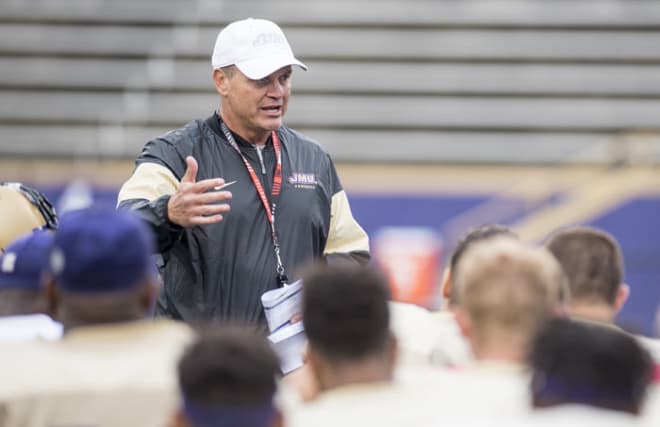 HARRISONBURG – Both James Madison and Richmond will play for more than just bragging rights in a rivalry contest on Saturday.
The top-ranked Dukes go for their 22nd win in a row and try to stay on course for a second-consecutive outright Colonial Athletic Association title, plus the No. 1 seed for the FCS playoffs. The Spiders are looking to stay in contention for an at-large playoff berth.
"These are the kind of games you love playing in, especially when there's meaning to the game," second-year JMU coach Mike Houston said Monday during the CAA coaches teleconference. "Both of us are pushing for a playoff spot, so there's a lot on the line Saturday."
Houston got his first experience in the rivalry last year when JMU beat Richmond 47-43 at Robins Stadium in Richmond.
"The fans are into it a little more and both teams play with just a little more juice than normal," he said. "It makes for a great game day atmosphere."
*****
- Houston said Richmond quarterback Kyle Lauletta is one of the top players at the position in the country. He said in his opinion, Lauletta will likely play in the NFL.
- Between Lauletta and a strong group of wide receivers, Richmond has the nation's No. 1 passing offense (358.4 yards per game). Houston said JMU's defense would be "challenged massively on the defensive side."
- This past Saturday in a 38-3 win at Rhode Island, the JMU offense scored on five consecutive drives in the second half to gain its large lead. Houston said the offense had fewer mistakes and operated more efficiently against the Rams in the second half than most of the previous games in CAA play.
- Houston said senior running back Taylor Woods and freshman running back Percy Agyei-Obese gave the Dukes "a shot in the arm." Woods had 75 rushing yards on 12 carries and Agyei-Obese had 95 rushing yards on 10 carries.
- Since both Woods and Agyei-Obese hadn't carried the ball as frequently as the team's other backs entering Saturday against the Rams, so Houston said the two had fresh legs and it showed.
- Richmond coach Russ Huesman faced Houston twice before when Huesman was the coach at Chattanooga and Houston was the coach at The Citadel. Huesman won both meetings, but said Houston's teams are always well coached and added that this year's JMU team and specifically the defense, is the most well-coached group he's seen in a long time.
- Huesman also worked with some of JMU's defensive staff previously. He said Dukes defensive line coach Jeff Hanson is "one of the best."