Dukes To Play At Louisville In 2022
Game Will Net JMU Its Largest FBS Payday Ever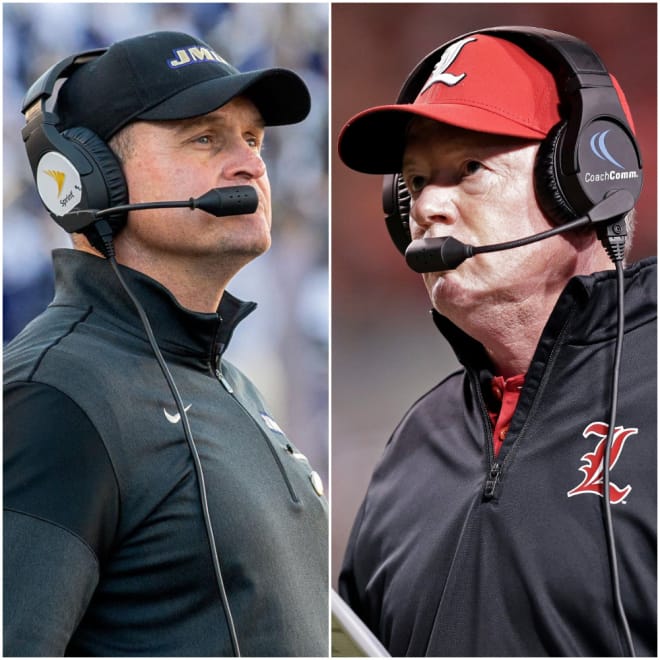 HARRISONBURG – James Madison has added an FBS opponent to its future schedules.
The Dukes will play at the University of Louisville on Nov. 5, 2022, according to Kevin White – JMU's associate athletic director for sports programs.
White handles football scheduling.
"They're in the ACC, which is one of the best conferences in the country," White said. "They've had a Heisman Trophy winner, and I think anytime you have an opportunity to play that caliber of football, it only helps your program."
The two schools have never met previously.
White said Louisville will pay JMU $600,000 for the visit to Cardinal Stadium. That figure is the largest ever payday the Dukes will receive from an FBS foe.
The Dukes will get $550,000 from West Virginia to open the 2019 season. N.C. State is paying $425,000 for this season's opener and North Carolina has agreed on a $500,000 check for the 2020 contest.
"It helps in recruiting that we're seeking to play the best people across the country," White said. "Louisville is a place that we feel like our fans can get to and we've worked hard to stay on the Eastern Seaboard versus going to the Midwest, so we think it's a phenomenal game.
"Coach [Mike] Houston was very, very supportive and he thinks it's a great game as well. There are a lot of positives associated with it."
White said JMU still is looking for a 2021 FBS opponent.
In two of the last three seasons, JMU has upended their top-level foes. Last season, running back Cardon Johnson carried for 265 yards and two scores to help the Dukes demolish East Carolina, 34-14. In 2015, JMU took down SMU 48-45 in Dallas.
Looking down the line, JMU's 2019 schedule is full. In addition to playing at WVU, the team will start a home-and-home on the road at Chattanooga and will host St. Francis and Morgan State.
White said he still needs an FCS opponent to round out the 2020 non-conference schedule with Chattanooga coming to Harrisonburg on Sept. 12 and JMU traveling to UNC on Nov. 21.
"This whole scheduling thing, it's moving all the time," White said. "So I've got some holes to fill and hopefully I'll get on it over the next month to make an inroad or two to find another game and put the puzzle together.
"But Louisville is a great game for us on a lot of fronts and we're excited."
Louisville finished 8-5 last year with an appearance in the Tax Slayer Bowl and have earned a bowl bid in each of the eight seasons under coach Bobby Petrino. In 2016, former quarterback Lamar Jackson won the Heisman Trophy.
Earlier this month at ACC Media Days, Louisville was picked to finish fifth in the Coastal Division in the preseason poll voted on by the league's media members.