Comeback Comes Up Short As JMU Drops Another Home Game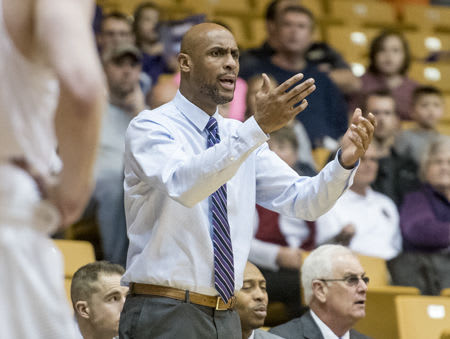 HARRISONBURG — The crowd at James Madison's Convocation Center was ready to explode Saturday evening with a minute to go.
After trailing by as many as 20 to Northeastern in the second half, two Dukes stood under the basket by themselves in position for an offensive rebound and putback that would have cut the lead to five. Instead, Greg Jones was whistled for going over the back, seemingly of his JMU teammate Zach Jacobs.
The Huskies made their free throws down the stretch and held on for a 78-68 victory. It was JMU's fourth consecutive loss, leaving it alone in last place in the Colonial Athletic Association.
Yes, just about anything that could go wrong for the Dukes lately has.
"I hope my mom is listening," JMU coach Louis Rowe said when asked about the late foul. "My mom sends me a scripture and a gospel song to listen to everyday because she doesn't want me to be that angry guy on the sideline. So, on questions like that, my answer to you is going to be I didn't get a (technical foul) today."
Madison fell to 9-13 and 2-7 in conference. On their homecourt, once an early-season sanctuary for the road weary team, the Dukes lost twice in three nights. This time in front of 2,728 fired up fans, the biggest home crowd JMU has enjoyed in CAA play.
"I want my guys to keep fighting," Rowe said. "What a lot of people don't understand is that things like that matter."
As Northeastern built a 20-point second half lead, one of the biggest cheers came when junior guard Jordan Roland simply missed a jumper. It wasn't something that happened a lot as he went off for 29 points, including eight 3-pointers.
Roland, who came in averaging 14.6 points per game, had exceeded that by halftime as the JMU coaches tried anything they could think of to slow down the George Washington transfer. The Dukes played a variety of defenses: straight man-to-man, fullcourt traps, even breaking out a 2-3 zone.
None of it slowed down Roland, who stepped up during an off night for Northeastern's leading scorer, Vasa Pusica, who finished with 10, but went 2 for 8 from the field.
"That's what happens when you have good teams," Rowe said. "You can keep one guy down, and Vasa's good and I thought we did a really good job on him, you can hold one guy, but there's another guy there."
With 12 minutes left in the first half, the Dukes came out of the timeout in a 2-3 zone defense, a rare look for Rowe's teams. And for a while it disrupted what Northeastern wanted to do in the half court game.
But the Huskies turned six first-half JMU turnovers into nine points and even with Pusica struggling, created easy buckets on the run for Roland and Shawn Occeus, who finished with 14 points, before beginning to warm up from the 3-point arc late in the first half to build a 33-24 lead at the break.
"We knew they had it in their repertoire," Northeastern coach Bill Coen said. "We were a little disorganized and we had a funny lineup there in the first half, but the 2-3, we settled down against it and were able to make a couple of shots. We're a pretty good transition team and we can get out and run when we rebound."
The Huskies opened the second half blocking a driving shot by Matt Lewis, who finished with 17 points and six rebounds, and taking it down the floor for a fast break that ended with an emphatic alley-oop slam by Occeus to help quickly build a 15-point lead and it was a double figure difference most of the way until the Dukes made a furious run late.
But instead of celebrating a big comeback, sparked by Stuckey Mosley's 23 points, the JMU faithful were heading for the exits soon after Jones' basket was waved off and the Dukes players met at center court to talk about how to regroup.
Thursday JMU heads to College of Charleston. The Cougars are one of the two teams the Dukes have beaten in conference play, but have won two in a row to get back above .500 in conference play.
"We've got games next week," Mosley said. So we don't need to be sulking about this."