Big-Game Bryan
Madison QB Schor At His Best During Postseason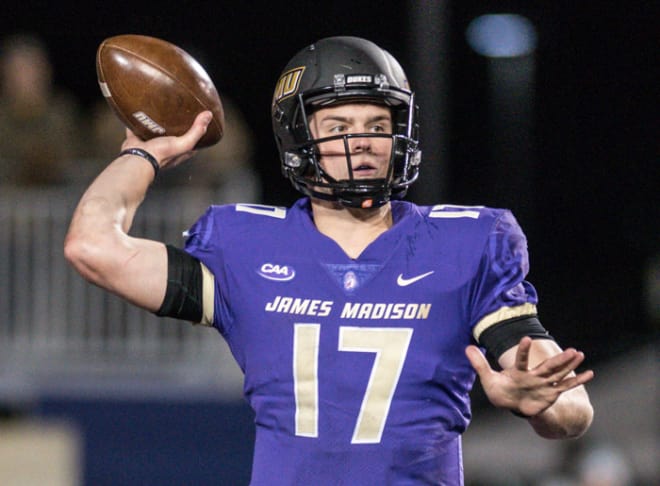 HARRISONBURG — There's a difference between embracing the game that puts the season on the line and understanding how to win it.
For James Madison senior quarterback Bryan Schor, throughout his career, he's thrived in those moments that matter the most.
"One thing that I've noticed in the playoffs is that every single play matters," Schor said. "The pressure is on a little more and it seems like there's more at stake, but it's something I've always enjoyed.
"I like when the big stage is on. I like when everything that you do is going to impact the game."
Saturday's FCS national championship game between top-seeded JMU (14-0) and second-seeded North Dakota State (13-1) will be Schor's ninth postseason start. He's 7-1 in the playoffs and led the Dukes to last year's banner season.
His personal numbers are just as strong, compiling 21 total touchdowns to just four interceptions in those eight postseason contests.
"He's such a driven competitor and smart football player," JMU coach Mike Houston said. "So he makes himself better than he really is. But it's his composure and his ability to make plays in critical moments and it's really why we've done what we've done.
"He kind of plays within himself. He doesn't let the stage or the atmosphere or anything like that rattle him. He just stays true to who Bryan Schor is. When he's operating smoothly and efficiently and leading our team, he's pretty impressive, so I think it's just the ability to handle the moment, handle the stage, and stay true to who he is."
Schor's 25-yard touchdown pass to wide receiver John Miller in the fourth quarter of last season's national semifinal enabled the Dukes to secure the win over the Bison in the FargoDome and advance to Frisco, Texas — again the site of the national championship game this year.
The signal-caller threw a pair of touchdowns in the first quarter of the Dukes' title game win over Youngstown State.
This postseason, Schor had a hand in three scores against South Dakota State in the semifinal and his 40-yard touchdown pass to wide receiver Riley Stapleton against Weber State in the quarterfinal setup the game-tying 2-point conversion with 2:08 to play.
"Early on in high school, I learned that you can't freak out if one play doesn't go your way," Schor said. "There are plays that define a game, but you just have to relax."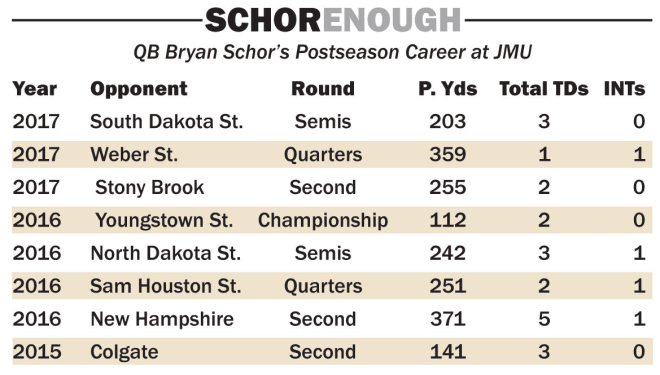 JMU offensive coordinator Donnie Kirkpatrick said he's going to lean on Schor again this week.
NDSU allows less than 90 yards per game on the ground and forces its opponents into third-and-long situations frequently.
"I think it was Bear Bryant who said it, but 'you dance with the one that brung you,'" Kirkpatrick said. "And obviously we'll let Bryan have the show. We'll put it on him.
"He's the most unselfish player you could possibly be around but big players like big games and they play good in big game. This is his time.
"He doesn't care about the numbers. He doesn't care about the stats. He just cares about winning and when it comes to playoffs, he has had to step it up a bit. He has. He's had two great years in the playoffs, so we'll really hand it over to him this weekend."
Even Bison coach Chris Klieman said he sees why JMU is so confident on offense playing through Schor.
"He's a winner. He just makes plays," Klieman said. "Very similar to what we have in [NDSU junior quarterback] Easton Stick.
"I think to get to this stage you have to have a quarterback that's a winner, that's a playmaker, that the moment's not too big for them and that's no question, both quarterbacks in this game are like that."
Stick has thrown for 10 touchdowns compared to just one interception this postseason.
"Both guys you think about the wins that they've had," Klieman said. "The big time wins they've had in critical games and I think both players' teams know how valuable they are."