Analyzing JMU's FBS Transfers Under Mike Houston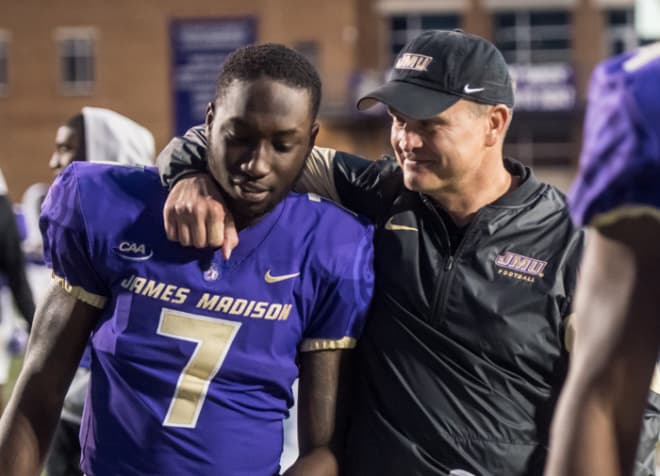 HARRISONBURG – Entering his third season as coach at James Madison, Mike Houston hasn't hesitated to improve his roster with FBS transfers looking to play right away.
Since 2016 when Houston arrived in Harrisonburg, 17 players from the FBS level have joined or planned to join – Ohio State defensive back Wayne Davis and Central Florida running back Jawon Hamilton this week – the Dukes. Both Davis and Hamilton have not been officially added to the roster yet.

Here's a look at all the FBS transfers (how they performed and how they project) Houston's program has landed since he took over as coach.
2018 Offseason
Who Joined JMU: Paris Black (defensive lineman, Wake Forest), Wayne Davis (safety, Ohio State), Ben DiNucci (quarterback, Pittsburgh), Jawon Hamilton (running back, Central Florida), Juwan Moye (defensive lineman, Virginia).
How They Performed: Can't judge this group yet because none of them have played in games, but three did practice with the team during the spring.
Quarterback Ben DiNucci walked-on at JMU after starting six games at Pitt last season and proved good enough to stay in the Dukes' quarterback race displaying a dual-threat skill set that fits the offense. Defensive lineman Paris Black took reps with the second- and third-team defenses as an end and tackle as he started to learn the scheme.
Fellow defensive lineman Juwan Moye was tasked to take snaps at defensive tackle with the backups as well, and he did for most of the spring up until he abruptly left the team in the week leading into the spring game. It's easy to conclude that it didn't work with Moye.
How They Project: DiNucci will battle junior Cole Johnson for the starting job throughout August training camp.
During the spring, JMU offensive coordinator Donnie Kirkpatrick said of any signal-callers on the roster, DiNucci plays most similarly to graduated starter Bryan Schor. If DiNucci can win the job, JMU's offense will likely look familiar to what it's been in each of the past two seasons.
As for Black, he'll fit into a rotation of defensive linemen and be used as an edge rusher or an interior player depending on where the staff needs him to play.
The two newest additions – running back Jawon Hamilton and safety Wayne Davis – have different outlooks for this season. Hamilton, coming off of injury, will play alongside three seniors this year as the Dukes have Cardon Johnson, Marcus Marshall and Trai Sharp ready to carry the load. In 2019, JMU will probably feature a tandem at the position with Hamilton and Percy Agyei-Obese.
Davis should be penciled in as a starting safety immediately, considering the departure of former All-Americans Jordan Brown and Raven Greene.
2017 Offseason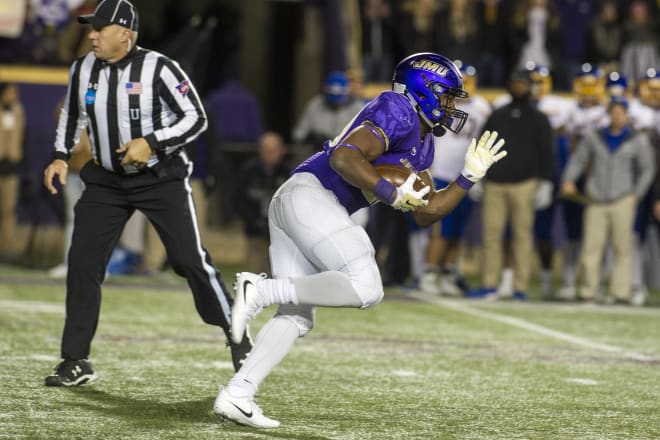 Who Joined JMU: Ron'Dell Carter (defensive lineman, Rutgers), EJ Donahue (offensive lineman, Maryland), David Eldridge (wide receiver, Virginia), Pika Leota (offensive lineman, South Carolina), Gus Little (linebacker, Maryland), Marcus Marshall (running back, Georgia Tech), Landan Word (linebacker, Virginia).
How They Performed: There's plenty of good with the seven FBS transfers JMU brought in last offseason.
Marshall ran for 850 yards and a team-best 11 touchdowns in his first collegiate season not playing in the triple-option offense he was used in at Georgia Tech. His scoring runs of 87 yards and 65 yards in the FCS semifinals against South Dakota State helped JMU get to the national title game.
Ron'Dell Carter contributed in the rotation at defensive end and defensive tackle in 2017, providing the quality depth any feared D-line needs to wear down its opponents.
David Eldridge emerged as reliable pass catcher, recording 42 receptions and Landan Word had 31 tackles as a backup to Kyre Hawkins and Brandon Hereford at linebacker.
Gus Little left the program after a solid season with 37 tackles and a fumble recovery.
Offensive linemen EJ Donahue and Pika Leota rarely or never played. Leota left the team.
How They Project: This season Carter, Eldridge, Marshall and Word will all be key members of the Dukes.
Marshall is one of three senior running backs the offense will lean on while breaking in a new starting quarterback, whether it's either DiNucci or Johnson who wins the job. Eldridge will serve as the No. 2 wide receiver to junior Riley Stapleton.
Carter finished spring saying he wanted to be a team captain. He'll start at defensive end. Word will start at linebacker.
Donahue should see action as a reserve offensive lineman.
2016 Offseason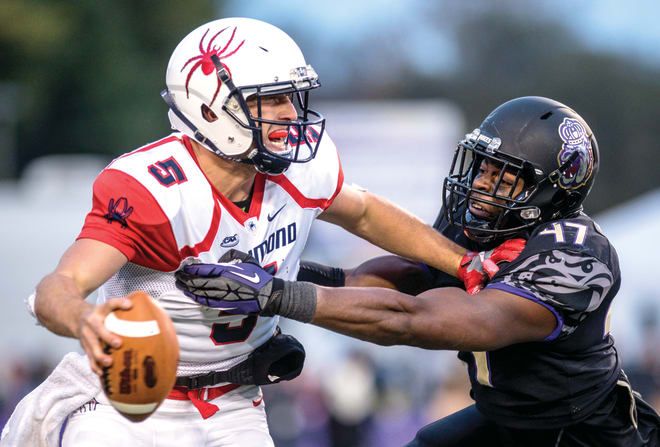 Who Joined JMU: Terrence Alls (wide receiver, Duke), Darrious Carter (defensive end, Virginia), Connor Mitch (quarterback, South Carolina), Quintin Reynolds (wide receiver, Old Dominion), Robbie Walker (kick returner, Ohio).
How They Performed: This set of transfers has proved to be a mix bag with two clear successes and three who never panned out.
Terrence Alls was a two-time All-Colonial Athletic Association third-team choice and was named to the National Football Foundation's Hampshire Honor Society for maintaining a 3.2 GPA throughout his college career.
Darrious Carter has 10.5 sacks in his last 17 games dating back to the 2016 season.
Maybe in a way Connor Mitch did his job by pushing Bryan Schor to elevate his level of play and win the starting role in the August leading into JMU's national championship-winning season. Mitch left following just one season after backing up Schor and spending time sidelined due to a non-football injury.
Walker returned kicks for most of 2016, but that didn't continue in 2017 and he left before the season was over. Reynolds appeared in three games in 2016.
How They Project: Carter is the only one left in this group and he'll have a chance at an All-American season if he can continue sacking the quarterback at the same rate he's done it in over the last 17 games.
He'll also have a shot at being an NFL draft pick come April.